WITS Department of Surgery
The Department of Surgery is part of the cluster that includes Surgery, Anaesthesia, Critical Care and Forensic Medicine. This cluster is managed by the HOD of General Surgery, Professor Martin Smith who assumed the position in 2013. Subspecialty divisions include General Surgery, Orthopaedic Surgery, Neurology, Plastic Surgery, and Cardiothoracic Surgery.
Research: The Department is research-intensive with a range of Clinical, Basic, and Translational research being conducted. At any given time, it hosts over 100 MMEDs and several MSCs and PhDs.
Surgical skills: The department hosts a world-class Surgical skills laboratory headed by Prof Damon Bizos. Surgical education and ensuring competence is evolving rapidly from an apprenticeship scheme to a training system. Initial emphasis has been on technical skills training courses but other domains of surgical competence are now being addressed. The initial Basic Surgical Skills courses (BSS) are also now being supplemented by intermediate and advanced skills courses.
Contact for surgical skills: Mr Sikhulile Khumalo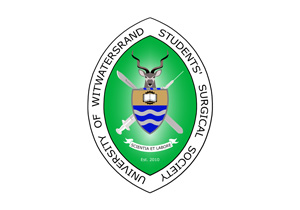 The Wits Students' Surgical Society
SurgSoc would like to encourage students to engage with our society on our social media platforms, by attending events and workshops and helping out with our outreach endeavours. We look forward to forming a long fruitful relationship as we discover and learn more about the wonderful world of surgery.
The Wits Students' Surgical Society was founded in 2010 facilitated by the Department of Surgery at the University of the Witwatersrand. This society forms part of the subcommittee of the Wits Medical Students Council and is also a member of the South African Society of Surgeons in Training.
The Wits Students' Surgical Society (WSSS) has the following core objectives: To provide insight into a career of surgery, gain and teach valuable surgical skills, collaboration with other surgical societies as well as medical student societies and to provide a platform to facilitate the development of relationships between students and surgeons. The society hosts exciting events, workshops and outreach initiatives to achieve these objectives.
Events
The society organises several events throughout the year ranging from informative Lecture Series discussions, impactful Women in Medicine talks and the thrilling Great Debate amongst others. We have proudly hybridised our events to allow both in-person and online attendance within the parameters of COVID-19 restrictions.
Skills
WSSS proudly hosts a considerable number of basic and advanced suturing workshops alongside more specialised workshops such as Laparoscopic, Trauma, Orthopaedic, Intercostal Drain insertion and anastomosis workshops amongst others. These workshops are held in person on the 9th Floor of Wits Medical School in the Department of Surgery's Advanced Skills Laboratory.
Outreach
SurgSoc dedicates itself to supporting and carrying out various outreach initiatives throughout the year. These range from raising funds and supporting organisations such as Smile Foundation, assisting at shelters and clinics around Wits University and visiting schools to support young minds and enlighten children regarding the world of Surgery.  We are also involved in donation collection and generation for various causes.
Social Media
Our society embarked on expanding its reach to students and has incorporated many fun and interactive initiatives scattered throughout our social media platforms. These allow us as a society to better engage with our members and provide a more personal space for our growing community. Social media has allowed us to raise awareness for our outreach Initiatives, workshops and events.